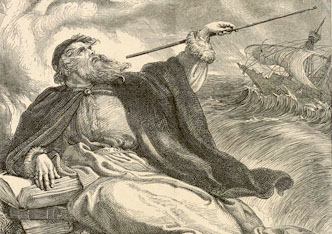 1. Here's a fascinating tidbit I just ran across in a review of Michael D. Gordin's "Einstein in Bohemia" (Princeton): "On May 24, 1911, Einstein gave a brief talk on his theory of relativity to a gathering of germanophobe intellectuals that met at the home of Berta Fanta ('an erudite, philosophically ambitious, and well-connected woman'), above her husband's pharmacy on Prague's Old Town Square. Franz Kafka was present, although the meeting of these two influential twentieth-century figures made little impression on either man."

2. A favorite Beckett passage, from Molloy: "And, in winter, under my greatcoat, I wrapped myself in swathes of newspaper, and did not shed them until the earth awoke, for good, in April. The Times Literary Supplement was admirably adapted to this purpose, of a neverfailing toughness and impermeability. Even farts made no impression on it."

3. I bought an interesting item recently – a chapbook titled "Thirty Three Triads translated by Thomas Kinsella from the Irish" (Dolmen Press 1955; reprinted 1957). It is a selection from "Trecheng Breth Féne 'A Triad of Judgments of the Irish', more widely known as 'The Triads of Ireland.'" This is "a miscellaneous collection of about 256 Old Irish triads (and some numerical variants) on a variety of topics, such as nature, geography, law, custom and behaviour. Its compilation is usually dated to the ninth century." (Wikipedia) "Triad" in this context means a statement identifying three examples of a particular phenomenon. The Irish triads seem to be very similar to the "numerical" verses in the Book of Proverbs in the Bible ("There be three things which are too wonderful for me, yea, four which I know not: The way of an eagle in the air; the way of a serpent upon a rock; the way of a ship in the midst of the sea; and the way of a man with a maid." – Proverbs ch. 30).

Here are some examples of Irish triads from the chapbook:

"Three excellent qualities in narration: a good flow, depth of thought, conciseness"

"Three accomplishments well-regarded in Ireland: a clever verse, music on the harp, the art of shaving faces."

"Three smiles that are worse than griefs: the smile of snow melting, the smile of your wife when another man has been with her, the smile of a mastiff about to spring."

"Three sounds of increase: The lowing of a cow in milk, the din of a smithy, the hiss of the plough."

"The three places where the world is made new: woman's womb, cow's udder, smith's anvil."

4. I recently bought a copy of a 1960s Spanish translation of Atlas Shrugged, titled La Rebelion de Atlas (is there no Spanish word for "shrug"?), with a wonderful dust jacket that seems to feature Dagny Taggart rather than John Galt or Hank Rearden or, as in the first edition DJ, railroad tracks.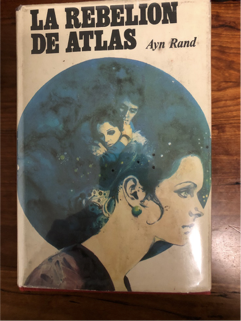 I flipped immediately to John Galt's speech, which in this particular edition runs for 62 small-print pages, and was amazed to discover that throughout it John Galt tutoyers his audience, referring to them as "vosotros" using the corresponding verb forms. Admittedly I haven't spoken Spanish since I spent four years studying it in high school, and that was over — well, it was some time ago — but that sounds wrong to me. Can anyone tell me whether a Spanish-speaking John Galt would address his audience as ustedes or vosotros?
-Prospero